As I mentioned in my post yesterday I intend to do a steampunk theme makeup soon, hopefully today, so I thought I would talk about why, and what makes a steampunk. first of all, if it has the word 'punk' in it, I'm liable to love it. XD
Steampunk is a sub-genre, sub-culture, fashion, and lifestyle based around the idea of a science-fiction Neo-Victorian Industrialized world. Remember how back in the '80s everyone thought we'd have flying cars by 2020? Steampunk is an almost similar concept. It's the idea of a mega-industrialized 19th century (Mostly London and England) completely powered by steam. If you've ever seen Disney's Atlantis: The lost empire, that world is alot like the steampunk world.
Think Airships, great machines, goggles, corsets, awesome victorian boots, nuts and bolts.
Steampunk is eclectic and beautiful, and I think it means something different to every person.
so I'm going to show you some pictures, and then some etsy shops, and then we'll talk about books! :D
Also, steampunk doesn't have to be your clothing, hair or make-up. it's your mind-set, your attitude, even your items. People do really neat customization of things and can turn everything they own steampunk! It's super cool. Oh, and abandon the 'real women don't wear dresses' mentality.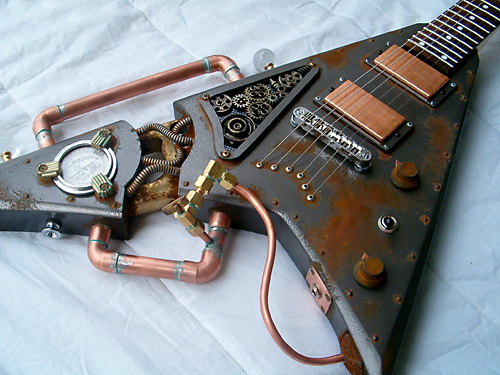 Items:
$68 click for link
$95
Baby dragon wrap around ring! $69.99
Great steampunk films:
Sweeney Todd, Sleepy Hollow, Wild Wild West, The Imaginarium of Doctor Parnassus, The Prestige, atlants: The lost empire.
Good steampunk reads: (Sorry, I haven't encountered many)
The storm Theif, and The haunting of alaizabel cray. both by Chris Wooding, the time machine by H.G. Wells, Howl's moving castle, by Diana Wynne Jones, and The City of Ember by Jeanne DuPrau.
I hope you enjoyed, and I look forward to sharing with you my up-coming Steampunk inspired look.'
~Elspie